The New Year has started. In Miyama, it used to have a lot of snow, but  it doesn't have much snow these years. So this year, it has been snowy winter after a long time. Mountains are covered with beatiful white snow silently. While we are surrounded by snow, I feel like I get the permission that I may spend more time without hurry for spring beginnig to sprout.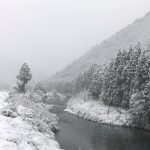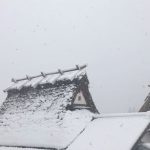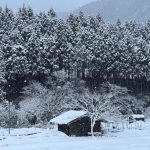 Welcoming to such snowy Miyama, the first customer of this year. She visited my class in Kyoto city to experience Kintsugi for the fiirst time two years ago in December. Since that time, the time has passed that we are not allowed to meet, and finally we could see each other again. During that, my child who couldn't walk at that time became being able to talk a lot now.
Kintsugi Stay:to learn Kintsugi with staying in. In these two weeks, she traveled around the world of Kintsugi, Wiping lacquer, Raden(mother-of-pearl), Gold lacquer.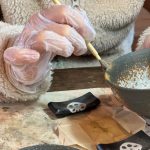 Her memories of the two weeks are… She talked with the bus driver as he was the same driver every day. And he dropped off her at the place even though it was not the bus stop after she told him the place she was going to. When she was waiting for a bus, the local person said kindfully " shall I drive you to your destination if there is no bus for a long time." She could heard about a traditional way of the funeral in Miyama from the local person who is familier with local customs very well. She found the misterious restaurant which had a flag of Denmark. And there was a beautiful scenery with snow in winter.
I hope she will visit again to experience Kintsugi and a misterious time of Miyama in different seasons.