It was the day which the rainbow was across the sky.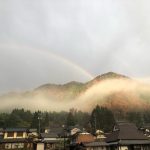 I planted the Urushi Japanese lacquer trees with my friends and kids through Japanese lacquer. Those baby trees were raised up by high school students in Aizu.
I can say that we are the very best friends.
We talk about not only our art works but our kids and our life more.
And we can encourage each other because we are now raising own kids even though we live far away.
It was so nice that we could plant lacquer trees together.
Until we can tap lacquer from these trees, it will take 10 years or more.
But we can keep watching over the trees and also our kids while both of them are growing up.
"If I=Love connect people, Urushi Japanese lacquer is exactly the love=I" (Ai = I = Love)
I feel like this these days.
I really gratitude my friends that Urushi connected on that day.