Setsubun
Setsubun that is the day turning to spring from winter.
The sunlight is also having become gently.
Looking back on Junuary, I had many guests from afar. They visited to experience "Kintsugi Stay" that the guests learn  Kintsugi  with staying over. It was just before COVID-19 expanded rapidly. During the stay from 2 days to 2 weeks, they can be healed by the scenery and the life of Miyama if you get tired of Kintsugi.  I would like to keep a Kintsugi class which they can spend suitable time for each person this year as well.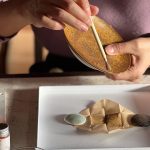 Unlike January, in February I came to have many opportunity to connect people from far away through online classes. Face-to-face is always the best way. But, I feel like that the contents I want to tell has been simply refined  by repeating communicaction through the screen.  While repeating face-to-face and online, I have a feeling that the contents of the class are also likely to evolve.
Setsubun with a new hope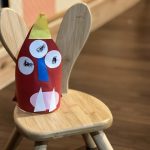 The demon who visited our house this year was the one my kid made at kindergarden having three eyes and triangle.  My kids always jump out of the futon when they are sleeping and bring in a cold. They are also cheerfully throwing beans saying "Oni is outside" to get rid of the cold and evil.